JOLF Ltd is owned and operated by Neil Plimmer and Nevil Perryman Best. Both of them PGA golf professionals experienced in working with children having dedicated themselves to coaching children and families exclusively over the last 6 years.
Neil and Nevil, friends for many years, began working together at a golf club in 2014 and they developed a very popular offer for children and their families. They became very busy delivering weekend sessions, holiday camps and experiences in schools and wanted to grow and develop the business so made a decision to move on to pastures new in 2016. This was the start of the journey they continue on today to offer children and families opportunities to play golf, learn and compete in schools and in golf clubs.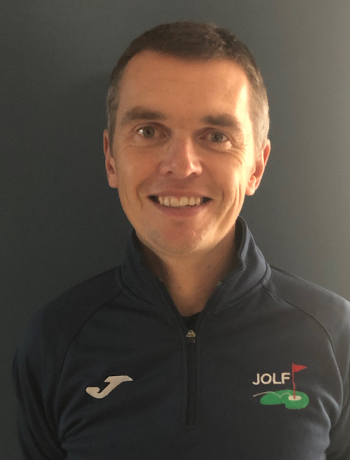 JOLF Coach & Director JOLF Ltd
Having been a PGA golf professional for over 20 years he has been involved in all areas of the game. But it was working with children in schools and at golf clubs where he has dedicated a large proportion of his work.
After leaving a role as a club professional he moved to Horsham Golf & Fitness where he was asked to come up with a new coaching programme. Working alongside fellow JOLF director, Jonathan Shipstone, they sat down with a blank sheet of paper and JOLF was born!!! Over the years thousands of children have played JOLF in schools and at golf clubs around the country. The business and what they offer continues to change as they learn and grow.
Neil has been lucky to be invited to speak across the world to coaches about JOLF and share his knowledge and experiences. He is happiest with a group of 30 children in a school delivering sessions and coming up with different experiences that will engage children and create a love for golf, and sport in general.
Married with a daughter and son who are obsessed with cricket (and LEGO) he shares his children's passions. Also a keen runner who is always trying to beat his PB's.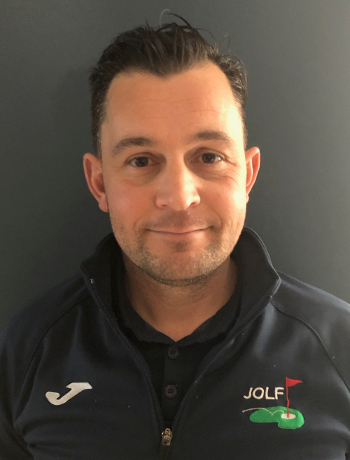 JOLF Coach & Director JOLF Ltd
A PGA golf professional for 14 years having worked at both private and municipal golf courses. His main role was as Director of Coaching at a very busy centre in the south east where he was responsible for running the academy and introducing beginner adults to the game.
Nothing gave him a bigger buzz than someone coming into the facility who had never played before and then supporting and guiding them to become golfers. His passion for coaching children was ignited and over the years he built the junior academy into one of the most popular and respected in the area.
In 2014 he introduced JOLF at the centre and saw numbers grow where he was seeing over 100 children every weekend. In 2015 he joined JOLF Ltd as a director.
Married with 2 daughters who love all things sparkly and gooey! He enjoys keeping fit (often while listening to trance music) and planning projects around the home.
JOLF Limited
Company No: 08014226
Registered Address:
34 Victoria Road, Dartmouth, Devon. TQ6 9SA
Postal Address:
31 Longhurst, Burgess Hill, West Sussex. RH15 0TG