During our whole school play golf experience days and JOLF PE sessions we aim to provide children with a positive first experience of golf and then enthuse and inspire them to search out further opportunities to play more golf, learn and compete. Ultimately our aim is to support children to become independent golfers, therefore enabling them to play on a golf course and become the best that they can be.
Our sessions at golf clubs incorporate a games based approach to learning providing engaging and appropriate experiences to each child, every time. We aim for all children that experience golf with us for the first time to love it so much that they want to continue playing and learning. We want every child to have the opportunity to learn to play golf on a course independently.
Each child's learning journey will be very different. This is reflected in our approach to coaching and our JOLFer to GOLFer learning program that supports children and their families in the goal to play independently on the golf course.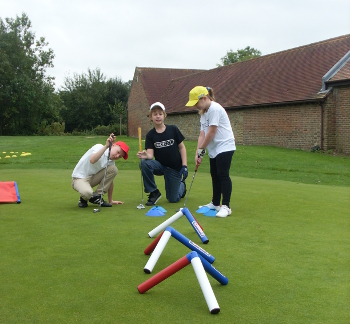 Children progress is rewarded by earning different coloured caps (white, red, yellow, green, blue, brown and black) A games based approach to learning golf that firmly placed the children in charge of their own learning and development with the support of their family members and specialist coaches of children.
Focussed less on imposing technique on children, as is traditionally practiced by coaches/parents, and more on developing a framework that allows children to learn at their own individual rate within a safe and inclusive group environment. Each session provides children with the opportunity to play games and tasks that are based around the skills needed to play golf.
Interested in JOLF?
Complete the form below and we'll get straight back to you
JOLF Limited
Company No: 08014226
Registered Address:
34 Victoria Road, Dartmouth, Devon. TQ6 9SA
Postal Address:
31 Longhurst, Burgess Hill, West Sussex. RH15 0TG