PLAY Golf Experience Days
A whole school PLAY Golf Experience day is the perfect opportunity to introduce a new sport in your school. Children from reception to year 6, regardless of age/confidence/experience/disability, will have the opportunity to play golf on our GolfParc® - a fun and safe experience delivered by our expert coaches. We believe that "one size does not fit all" and so each bespoke day will be carefully planned and delivered to suit your children, staff and facilities.
We guarantee to engage and enthuse all of your children to play more golf.
During a whole school play golf experience day we will set up our GolfParc® on your school field, playground or hall and every child will have the opportunity to navigate their ball from the start position, around bunkers, water hazards, trees, bushes and ultimately get the ball into the hole at the bottom of the flag in the fewest amount of shots possible.
Children will be able to participate all at the same time working in small groups, for larger schools we have a number of different strategies to accommodate all children during the day. We are able to offer older children the opportunity to become leaders during the sessions and support the play of younger children. We will also actively involve teachers and support staff in the sessions, sharing with them our strategies, answering their questions, sharing insight and increasing confidence allowing them to feel confident to deliver more golf experiences at school.
Following the session we will compile and return an evaluation report that will provide you with evidence of the day and its impact in your school.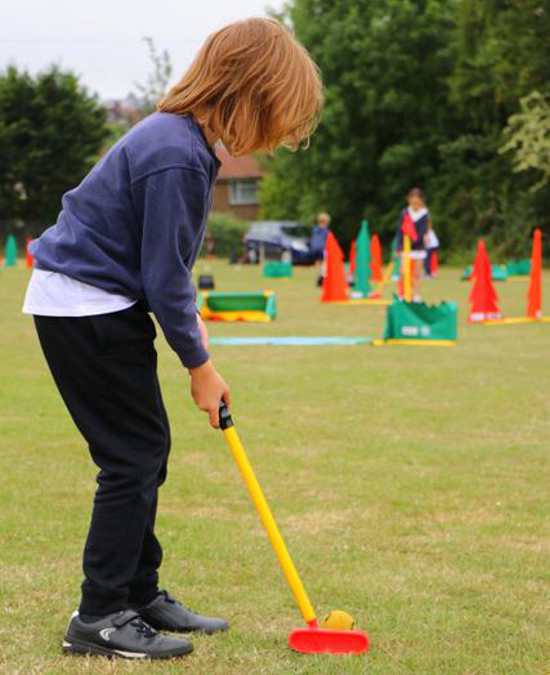 Children will be given opportunities to keep their own score and challenged to set and improve their personal bests.
Golden balls will be earned by children who try hard, work well with others and demonstrate safe, sensible and fair play. And all children will walk away from the session with a prized sticker.
Engaging "Less Active" Children
Through delivering many play days we are confident that the sessions will engage your "less active" children. They will feel less intimidated as there is no demand to run, sweat or be super fit. They will be allowed to play at a slower pace than many sports giving them ample time to think, make decisions for themselves and figure things out. For children who would normally struggle in a team environment this will boost their self esteem and confidence.
GolfParc® is a Registered Trademark of P.B.Gray trading as Factory Eleven. All rights reserved 2019.
Interested in JOLF?
Complete the form below and we'll get straight back to you
JOLF Limited
Company No: 08014226
Registered Address:
34 Victoria Road, Dartmouth, Devon. TQ6 9SA
Postal Address:
31 Longhurst, Burgess Hill, West Sussex. RH15 0TG