JOLF was established in 2011 and specialises in providing children and their families with opportunities to play golf, learn and compete in schools and at golf clubs. We are driven by the aim of providing experiences that are fun, engaging and appropriate – for each child, every time.
Originally developed as a club based coaching programme for children and their families to follow a process, similar to karate belt grading, where children would earn different coloured caps (white, red, yellow, green, blue, brown and black), JOLF is a games based approach to learning golf that firmly placed the children in charge of their own learning and development with the support of their family members and specialist coaches of children.
JOLF focusses less on imposing technique on children, as is traditionally practiced by coaches/parents, and more on developing a framework that allows children to learn at their own individual rate within a safe and inclusive group environment. Each session provides children with the opportunity to play games and tasks that are based around the skills needed to play golf, ultimately with the aim of allowing them to play golf independently on a golf course.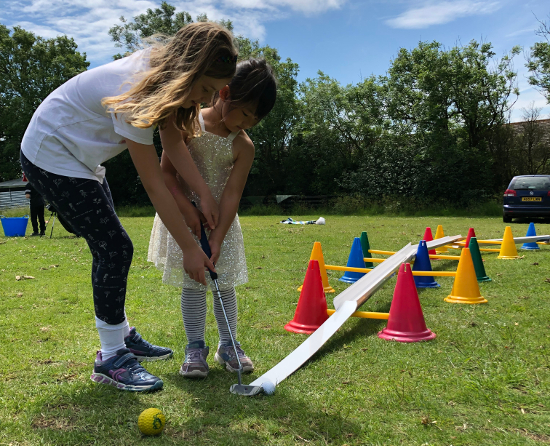 Since 2016 we have focussed on developing and delivering experiences for children to play golf in primary schools. These experiences include whole school Play Golf Experience Days, JOLF PE and initially breakfast/after school clubs. In developing our offer to schools we stripped back the game of golf and researched how the game needs to look to enthuse and engage all children aged 4-11. In doing so the sport will look very different to how it has traditionally been presented and played. Fun games and modified golf courses are provided for children to play, learn and compete. These games/courses are always set up with fun in mind as well as learning new skills and techniques.
JOLF is underpinned by its principles and elements as well as being guided by a number of golden rules and values. To read more about the principles, elements, golden rules and values of JOLF, click here.
These can be seen in all sessions and experiences that we deliver and form the basis on how the business is run as well as the connections they make with the children and their families. Over the years we have constantly reviewed, reflected and critiqued what we do (and will continue to do so!!) and are driven by the aim of providing experiences for children that are fun, engaging and appropriate – to each and every child, every time. An aim that may not always be possible but it motivates us to deliver the best experiences.
Interested in JOLF?
Complete the form below and we'll get straight back to you
JOLF Limited
Company No: 08014226
Registered Address:
34 Victoria Road, Dartmouth, Devon. TQ6 9SA
Postal Address:
31 Longhurst, Burgess Hill, West Sussex. RH15 0TG